Whats new!!!!!!!!!!!!!!!!!

.. width="425" height="350">..>
ROMEO NEW VIDEO CALLED "SHINE"
come here 2 see whats new with romeo and his life!
NEW SONG BY ROMEO CALLED " COUNTRY AND GUTTA"
CLICK IT, TO LISTEN!
________________________________________________
MASTER P WANTS ROMEO TO GET EDUCATED

Hip-hop mogul MASTER P will support his rapper/actor LIL' ROMEO's ambitions - on the condition he gets a good education. Despite finding fame at the tender age of 11 with his debut eponymous named album, the rap producer, real name PERCY MILLER, insisted the youngster carry on in school. Lil' Romeo, real name PERCY ROMEO MILLER JR, is now eyeing a possible basketball career after succeeding in the charts and small screen, with his TV show ROMEO! Master P tells AllHipHop.com his son recently turned down a $3 million (GBP1.6 million) film deal so he can study in summer school. He enthuses, "I don't care what he wants to be or how much money he makes, I just want him to get an education and do something in life that he loves to do."

________________________________________________________________________

LIL' ROMEO LANDS BASKETBALL ROLE

Teen rapper LIL' ROMEO has been tipped for sporting glory after landing a place in an exclusive US basketball camp. The U CAN'T SHINE LIKE ME hitmaker won a coveted place at Reebok's ABCD camp in New Jersey, which has trained sports superstars such as KOBE BRYANT and LeBRON JAMES. The 16-year-old hip-hop star performed so well, he ended up on the all-star team after averaging 20 points per game. Romeo tells AllHipHop.com, "There was no pressure on me. I used this week as a concert. Instead of thousands of fans there were thousands of college coaches and NBA scouts and I used the basketball court as my stage. I took the opportunity to show the world I can hoop for real." SONNY VACCARO, founder of the camp, says, "Romeo has the heart of a lion, he's a team leader, will compete against anybody, and he is one of the fastest players I've seen in a long time."

Romeo will be having a new Movie Boxing movie come out called "God's Gift"...Also the name of his new album comming in November.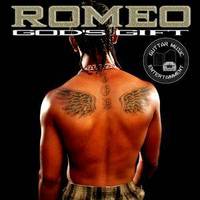 Percy Miller, a.k.a. Lil' Romeo, owns a Cadillac Escalade and lives in Beverly Hills. Everywhere he goes, there are autograph seekers.

He's been in movies, he has his own television show, his own records and he is the son of rap entrepeneur Master P. He's more than likely the richest person in the gymnasium. By far. At 16 years old, he is already a multi-millionaire.

This week, though, he is not a superstar. He is No. 11 on the Bulls team at Reebok ABCD Camp. Lil Romeo has made it in the entertainment industry. Now he is trying to make it on the basketball court.

"This is what I've been doing since before the music and everything else," Miller said. "I like playing against the best competitors. This is what I love to do, play basketball."

Obviously, Miller is not your typical teenager. He had to postpone the shooting of a movie so he could attend camp this week. Usually, he spends eight hours in the studio working on his music.

"It's crazy," he said. "Sometimes I'm in there all night."

But it would not be right any other way for Miller, who describes himself as a workaholic who aims to only do the things in life that make him happy -- music, entertainment and basketball.

There is still a youthful side to Miller, a refreshing child-like attitude that wants to have fun and be carefree. Make no mistake, he is goal-oriented and mature. But sometimes he likes to let loose and just be a kid.

"My house is like a family reunion every day," Miller said. "I have my AAU team over and we hang out. My cousins and my family are always there. We have a real fun time."

He laughs when he talks about family members from his native New Orleans falling when trying to navigate the hills of his canyon home. Miller, listed at 5-foot-11, always seems to be enjoying life.

He's got the cars and the money and the homes and the diamonds. He's a success on television, in movies, in music. Now he wants to conquer basketball.

An invitation to ABCD was a good first step, even though he ranks second-to-last among all campers on the stat sheet. But ABCD is an elite camp and no one said he's the top player in the 2008 class. Everything Miller is involved with turns out to be successful. He wants to make basketball no different.

"My father gives me a lot of advice, not only on basketball or music, but on life," Miller said. "He tells me if you're not happy doing what you are doing, then find something else. This is what makes me happy."






Enter supporting content here
HEY THIS IS YOUR GIRL VICTORIA MILLER AND THIS IS MY WEBSITE ,AS U CAN SEE, IT ALL ABOUT LIL`ROMEO ,LOL,AND I DONT KNOW WHAT 2 WRITE ,BUT ALL I GOT 2 SAY IS AM LIL`ROMEO #1 FAN I LOVE MY BABY ROMEO AND I HOPE HE LOVE ME 2 AND THANK UR FOR COMING 2 MY WEBSITE IIGHT BY AND IF UR WANT 2 TALK 2 ME ABOUT ANY THING E-MAIL ME AT LILROMEOWIFEY4L@AIM.COM!!!!!!!BYE!!!!FANZ!!!!!!LOL!!!!!!